Sports have an interesting way of aging people in our minds. Think of the 35 year old guy who sits next to you at work. He's probably got a wife and maybe a kid or two, but he hasn't yet traded in his old, beat up sports car. He still rocks Nikes instead of transitioning into old people New Balance. Maybe you've heard him use the expression "bruh" once or twice. He's no longer the fresh, young college-graduate, but he hasn't really become a full-on adult yet. Now think about the 34 and 36 year old baseball players in today's POTD. When you hear their names, you don't think of some guy who's yet to start tucking his polo into his khaki cargo shorts to accept his dad-ness. You tend to think they're legitimately old. A 35 year old normal person, in our minds, is obnoxious. A 35 year old baseball player, on the other hand, is some sort of elder statesman. This may be an incomplete thought that makes little to no since- as I've yet to finish my first cup of coffee for the day- and may also be found offensive to my mid-thirties audience, so let's just move on to what you folks are here for.
RAW PERFORMANCE PLAYER OF THE DAY
I want y'all to realize I'm being dead-serious with this selection. This is not me being some sort of homer or lending extra weight to my own players, Aaron Harang legitimately had the best performance of the day yesterday. For 7 innings, Aaron Harang absolutely shut down the Washington Nationals. Some people will probably say he won a pitchers duel against Strasburg, which is cool and all, but the whole notion of a pitchers duel is incredibly overplayed. It's not like they're battling one on one; each guy is individually facing against a unique opponent. 9 strikeouts across 7 innings with no walks and no earned runs doesn't need some sort of silly narrative to be good. In fact, in my mind, certain poor narratives like that can act to take away something from some accomplishments. Here at the General Store, we allow great performances to stand based on their own merit, and no matter how you look at it, Harang's outing absolutely shines.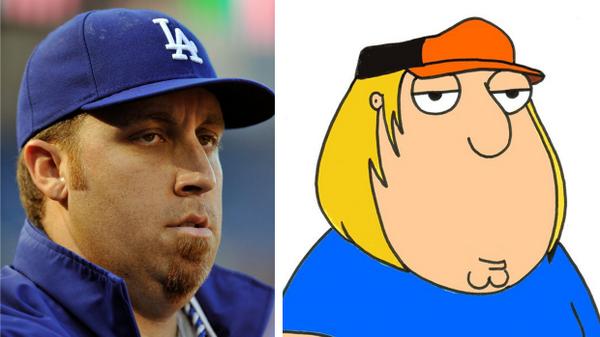 CONTEXTUAL PLAYER OF THE DAY
Now that I've completely tarnished the great name of traditional baseball narratives, lets build a silly narrative around a player's performance to elevate it above it's own merit in order to serve some purpose for the author. As the author of this content that you are being given for free, I have the freedom to do as such. Typically, this daily award goes to the guy who had the day's biggest impact on a team's chances of winning and/or going to the postseason, but if you remember the initial POTD post, you will remember that my selection criteria may be both arbitrary or biased. So with all respect to Avisail Garcia and his single in the bottom of the 8th that drove in the runs needed for another Athletics loss, there is another player who better meets my arbitrary and biased criteria.
Ultimately, what is the point of baseball for the fans who watch? Entertainment. Baseball's entertainment value is normally measured in things like wins and dingers and 100 mph fastballs, but it would be foolish to assert that these are the only ways entertainment value can be provided by this great game. Yesterday, Albert Pujols had a three hit game and was just a home run shy of the cycle. That in and of itself isn't that big of a deal; over a long season, this will happen dozens upon dozens of times. But this particular one was special, as one of those hits was Mr. Pujols' first triple since the year 2010. Maybe I'm strange, but I find a triple from an older, slow player to always be incredibly entertaining. Albert let an 85 mph changeup travel deep in the zone before driving it hard down the right field line, just past the first baseman. By the time the right fielder could get the throw in, Pujols had slid into third and was giving his customary look up to the sky. I assume this gesture is usually him thanking God for his ability to stand on rubber mats by method of hitting balls with sticks, but in this particular instance he was probably thanking his creator for the fact that he didn't pull anything while sprinting 270 feet. That joke could probably be re-worded to become a lot funnier, and this whole post could probably be cleaned up a tad, but I've got actual work to do. Enjoy this linked clip while I pretend to make sense of some lab data.