 The Cowboys look like one of the best teams in the league right now. This and other things in this week's hard-hitting edition of the Precap. You'll notice I'm in a state of altering content to make my posts more enjoyable for all. On to what is becoming the most depressing thing of the week, Falcons coverage.
THE DEFENSE IS SO BAD
I could pass on it. I mean, I was a pretty good player in my day, but still. It is now abundantly clear that our offense is not good enough to carry this team. Our offense is very good. Probably top 5. But a miserable defense makes us a doormat for everyone.
MAKE OR BREAK
This upcoming game against Flacco and his band of merry men seems like it will make or break our season (if that hasn't happened already). A win could re-energize the team and propel us towards finding ways to overcome our weaknesses (very difficult, but certainly not impossible). However, a loss probably winds up making our team more disinterested than they are already and leads us back to the depths of the NFC. This scenario likely leads to the ousting of our coaching staff and GM. A fresh start may not be a terrible thing.
VIC BEASLEY
Is it too early to say who I want to take in the draft? Yes? Well, secret is out.
SUPER BOWL PICK
So the defending champs were humbled this week, and because of that the team that did the humbling will take their spot. Literally no one saw the Cowboys having such a great start. If you did, you are lying. Romo is firing on all cylinders and the defense is vastly over-performing. I expect the defense to perform much worse moving forward but they have a favorable schedule over the next 6 weeks or so (depending on which Giants team decides to show up) so a run at the post-season is very much in the cards right now. Remaining in this spot from the AFC is the Broncos as they took care of business against a far inferior Jets team and Peyton is oh so close to breaking the touchdown record. My Pick: Denver vs. Dallas.
Darkhorse: The Chargers are almost as surprising as the Cowboys. The resurgence of Philip Rivers has been nothing short of incredible and this unorthodox group of players seems to be coming together nicely and in prime position to make it far in the playoffs. Matchups against the Chiefs and Broncos in the next two weeks will go a long way in defining who they are and what they are capable of.
TOP 3 GIFS OF THE WEEK
3:
Browns making highlights and making their way into our hearts.
2:
Tom Brady seems to be upset about people saying he isn't good anymore.
1:
Wait- what was that? Could it have been? The rare and famed FAKE SPIKE?!?!
BONUS GIF:
These are the kinds of things that make me think the Cowboys may just be smoke and mirrors a this point. Romo gon' Romo.
RADIERS PUNT TRACKER
Marquette is back from resting his leg over the bye week and unfortunately his team performed far too well for him to get a chance to shine this week. Derek Carr is trying to take all of Marquette's fame away from him and it has significantly hurt #KICKSQUAD's chances of making it into history. Now ranked 15th in the league in punts and on pace for 86.4 punts, our chances at history are seeming slim.
WEEK 7 PREVIEW
Last week's predictions:
1. Austin Davis leads the Rams to a victory over the 49ers on Monday Night. He had it, and then he lost it.
2. The Jaguars get their first win of the season over the Titans. Jaguars are so bad and it makes me sad.
3. J.J. Watt sacks Andrew Luck 3 times. I WAS SO CLOSE. He got 2.
THURSDAY GAME: JETS @ PATRIOTS: Well, after finally having an entertaining game, this one is shaping up to going back to our old ways of terrible, unwatchable, football. The Jets' offense is reaching dumpster fire levels. Geno takes the blame, but who does he have to throw to? Their defense is fairly stout though, being able to hold their own against the Broncos last week. All-in-all, the Patriots are a superior football team. Brady is back to his old ways, and while the Jets' defense will have some success slowly down the Patriots' offense, Geno won't be able to lead his offense to a victory. My Prediction: Patriots 28, Jets 14
GAME OF THE WEEK: Chiefs @ Chargers: The Chiefs are one of those sneaky good teams. Their record doesn't reflect the level of talent they currently possess. Look for Jamaal Charles to have a good day running the football and opening up opportunities for Alex Smith to air it out. Coming off of a bye, I expect a refreshed team to give the Chargers all they can handle. In the end, Philip Rivers is playing too well right now and the injuries in the secondary will lead to The Riverboat Captain leading his team to a hard-fought victory. The Chargers are also wearing powder blue and I refuse to pick against those uniforms. My Prediction: Chargers 21, Chiefs 18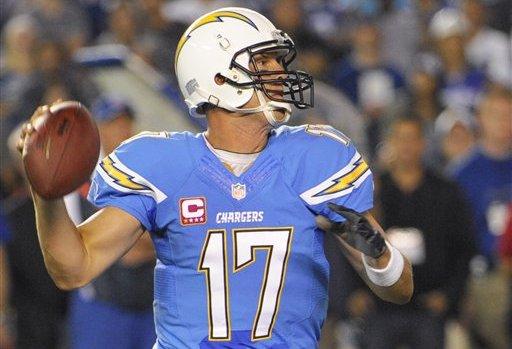 WEEK 7 BOLD PREDICTIONS
1. Cam Newton rushes for 2 scores this week after not doing so much to begin the season.
2. The Broncos blow out the 49ers by 18 or more.
3. The Falcons defense leads them to a win over the Ravens.
Happy football everyone!