GUYS. GUYS. GUYS. The day we've all been waiting for has arrived. After suffering through mediocrity for most of the year, the Browns have made the switch to America's Sweetheart, Johnny Manziel. The Browns started Hoyer and got a loss, so starting Johnny literally couldn't have done anything worse for them. Better late than never, I suppose. It remains to be seen how well he will do, but I think we all know in our hearts he will be the GOAT. SO, now, for the second week in a row:
JOHNNY WATCH 2014
And here was Hoyer's reaction:
THREE THINGS THURSDAY
JULIOOOOO
Julio is a good football player. He broke his career high last week. Broke it again this week. Maybe he'll break it AGAIN next week, who knows?! Dude has caught fire as of recently and it looks like now, more that ever, the offense runs through him. And I don't have a problem with it. We may have lost to the Packers, but if our defense could make a stop, it could be argued that we win that game. Now, we just have to hope he's healthy.
I AM CONFLICTED
Making the playoffs is cool. Everyone has a shot at that point (stop laughing). It is an even playing field at that point (seriously, stop laughing). The Falcons could wind up winning the Super Bowl (OK- you can laugh). But seriously, it is incredibly unlikely that we win the Super Bowl. So, if we don't win, there is absolutely no benefit in making the playoffs. It will make us much worse off for the draft and a bad team will not get any better. Right now, the difference between our pick and New Orleans' pick is TEN picks. TEN PICKS. That is the difference between an NFL ready player and a non-NFL ready player. I vote we don't make the playoffs. But, ya know, I guess it'd be cool if we did.
MATT RYAN IS SMARTER THAN OUR COACHING STAFF
We ran A LOT of no huddle offense against the Packers and it was awesome. We moved the ball like crazy. Our no huddle is great because Matt can control the game by calling plays and doing things on his own. Clearly, our coaching staff is incapable of winning games, so it is good to see them handing the reigns over to someone who can. Matt has made some bad mistakes this season but I am hoping it is just the result of trying to do too much. He is still just as good as always. I mean, we put up more points in Green Bay than a Tom Brady-led offense so…
PRECAP PLAYOFF PREDICTIONS
| | |
| --- | --- |
| NFC SOUTH: Falcons | AFC SOUTH: Colts |
| NFC NORTH: Packers | AFC NORTH: Steelers |
| NFC EAST: Eagles | AFC EAST: Patriots |
| NFC WEST: Seahawks | AFC WEST: Broncos |
| WILDCARD: Lions | WILDCARD: Bengals |
| WILDCARD: Cowboys | WILDCARD: Ravens |
Newcomers: The Ravens have appeared! With their dominance of the Dolphins, they slide into the last Wildcard spot and knock the Dolphins out. The Steelers seem to be on a huge upward trajectory while the Bengals seem to be treading water, so they switch spots this week. The NFC remains unchanged this week as I still think the Cardinals will fall down the stretch.
Super Bowl Pick: The Packers are the clear best team in the NFC and the Patriots are slightly better than everyone in the AFC. However, I think the parity of the AFC causes them to not make the Super Bowl and I am going to ride the current hot hand into the Super Bowl and pick the Steelers. Le'Veon is a beast and Rolo Tony Brown Town continues his monster year. The Terrible Towel makes its way to the Super Bowl. My Pick: Packers vs. Steelers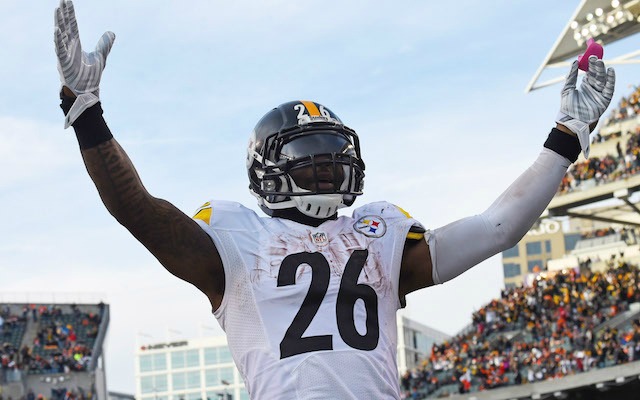 GIFS OF THE WEEK
Last week, one K YAMADA destroyed my #hot GIF section with his #tough edits so here comes a FULL GIF of the week section:
3:
The Vikings win in OT and that's a grown man football play.
2:
This week's edition of hurdling people will get you on my GIF recap. Not Pictured: How bad Dwayne Bowe actually is.
1:
That's just a good pick. Sucks to be Stafford and have gone to the university of georgia.
BONUS GIFS:
FAT GUY TOUCHDOWN
WE'RE FIGHTING CAUSE WE'RE BAD
And the Oscar goes to…
RAIDERS PUNT TRACKER
Well, in order for Marquette to break the record, he has to average 10.3 punts over the next 3 weeks. That seems incredibly unlikely and it seems like we on the #KICKSQUAD are not going to see the record broken this year, but don't you work, Marquette will certainly lead the league in punts. The Raiders getting better is the worst thing for us.
WEEK 15 PREVIEW
Last week's predictions:
1. The Browns bench Hoyer again amidst a blowout against Indy. Happened after the game :/
2. The Cardinals' losing streak continues to 3. Nooooope.
3. Romo throws for 350 yards. They fed DeMarco the rock.
THURSDAY GAME: Cardinals @ Rams: The Cardinals have one of the best records in the league, the Rams have a terrible record. Should be pretty straight forward, right? WRONG. The Rams defense is on the rise and they look incredibly good. Shaun Hill has the Rams being okay enough on offense to ride their defense to victory. Drew Stanton will not be able to handle the talent the Rams have on defense and will crumble. This won't be a blowout by any means but I don't see the Cardinals winning. My prediction: Rams 20, Cardinals 14
GAME OF THE WEEK: Cowboys @ Eagles: There is a lot at stake between these two teams. This rivalry seems to bring out the best in both teams, and this time around, it is for the division lead. These two teams seems to be very comparable to one another with their offenses outperforming their defenses. Romo is doing well and DeMarco is an incredible back. The Eagles don't really have problems against anyone. I think I give a slight advantage to the Eagles' defense as the Cowboy offense seems a little easier to stop at this point. My Prediction: Eagles 35, Cowboys 31
WEEK 15 BOLD PREDICTIONS:
1. Johnny Manziel throws for 200 and runs for 60
2. The Raiders' winning streak continues
3. Derek Anderson throws 2 picks
Well, there's another Precap in the books. I have Johnny Manziel on my fantasy team and I'm starting him in the playoffs. You're probably all like:
But I'm over here all like:
And remember if you're having a bad day, you're not having a "throw a pick six in the first 7 seconds of a game" bad day:
Peace. Love. Johnny Football.