Happy Thanksgiving everyone! Hopefully at some point today you will have eaten so much that you hate yourself. Two topics I want to hit on before I dive into Turkey Day Precap: Ryan Mallett and RGIII.
First of all, I really like RGIII. I loved watching him in college and his rookie year was incredible. Many people predicted he would be a better player to build around than Andrew Luck. My, how things have changed. He has fallen from grace mightily and it makes me quite sad. He is a talented guy that injury has seemed to ruin, or the league has figured out how to defend, or something. It has gotten so bad that he has been benched in favor of COLT MCCOY. I hope that he can find his way out of the dumpster fire that is Washington (I refuse to use the name Redskins–oh crap I just did, what have I done?) and get back to his winning ways elsewhere.
And now for the saddest news of all: Ryan Mallett has past. I will always remember you for your stellar deep-balls and your ability to narrowly avoid interceptions with your inaccuracy. I loved the time you spent in the starting role, however short. These were my favorite weeks of the year. I am in mourning and look forward to the day when I see your name in the Hall of Fame. Until then, get well my friend.
Now let's watch a couple highlights from this week's Falcon's game:
Oh, wait that's not the Falcon's, its just something I'd rather watch than Mike Smith's miserable clock management.
THREE THINGS THURSDAY
MIKE SMITH SHOULD GIVE UP
This should completely drive the nail in Mike Smith's coffin. His clock management has been a nightmare all along, but it was so bad that even he said it was bad. If you'll remember, Mike Smith never says anything of value in his press conferences, promises changes, and does the same thing week in and week out. Smith directly put the Browns in a position to win the game this week with his boneheaded timeout and the writing is now officially on the wall for our platinum-haired friend.
WILLY MO FINALLY READY
Our defense gets a boost this week as one of the best players on that side of the ball will return in William Moore. WillyMo is my favorite player/rapper and I am very glad to see him return to action. I can't wait to see him and Spoon healthy together once more. Hello, 2015, we are hoping and praying that you will put us out of our misery.
STILL IN LINE FOR THE PLAYOFFS
The Falcons are still very much alive in the playoff race, because that makes perfect sense. I just know that this season is going to end with us in the playoffs and having to settle for a #20 pick rather than a top 10 pick in this year's draft. Because, why not cap a terrible season with a terrible draft pick? I am not optimistic about the future of this program at the current moment. I hope Arthur Blank can change my mind during the offseason.
PRECAP PLAYOFF PREDICTION
| | |
| --- | --- |
| NFC SOUTH: Falcons | AFC SOUTH: Colts |
| NFC NORTH: Packers | AFC NORTH: Steelers |
| NFC EAST: Eagles | AFC EAST: Patriots |
| NFC WEST: Cardinals | AFC WEST: Broncos |
| WILDCARD: Seahawks | WILDCARD: Browns |
| WILDCARD: Cowboys | WILDCARD: Chiefs |
Newcomers: Seattle sure didn't stay out of the playoff predictions for long. Defeating the team with the best record in the league will do that for you, though. The Lions get the boot this week as they are now not playing the best football and someone had to fall out. The rest stayed the same although it seems like every team in the AFC has a 7-4 record.
Super Bowl Pick: New England still looks like the best team in the nation (because the football gods hate everyone) and Arizona seems to be largely hindered by having Drew Stanton at the helm. Therefore, New England stays and Arizona gets bumped out by a team that is hotter than a dancing bobcat: the Packers. Eddie Lacy has remembered how to do his job, the defense is playing surprisingly well, and Aaron Rodgers has returned to form. All of these are good signs for a team that likes to get hot late in the season and make a run in the playoffs. My pick: Green Bay vs. New England.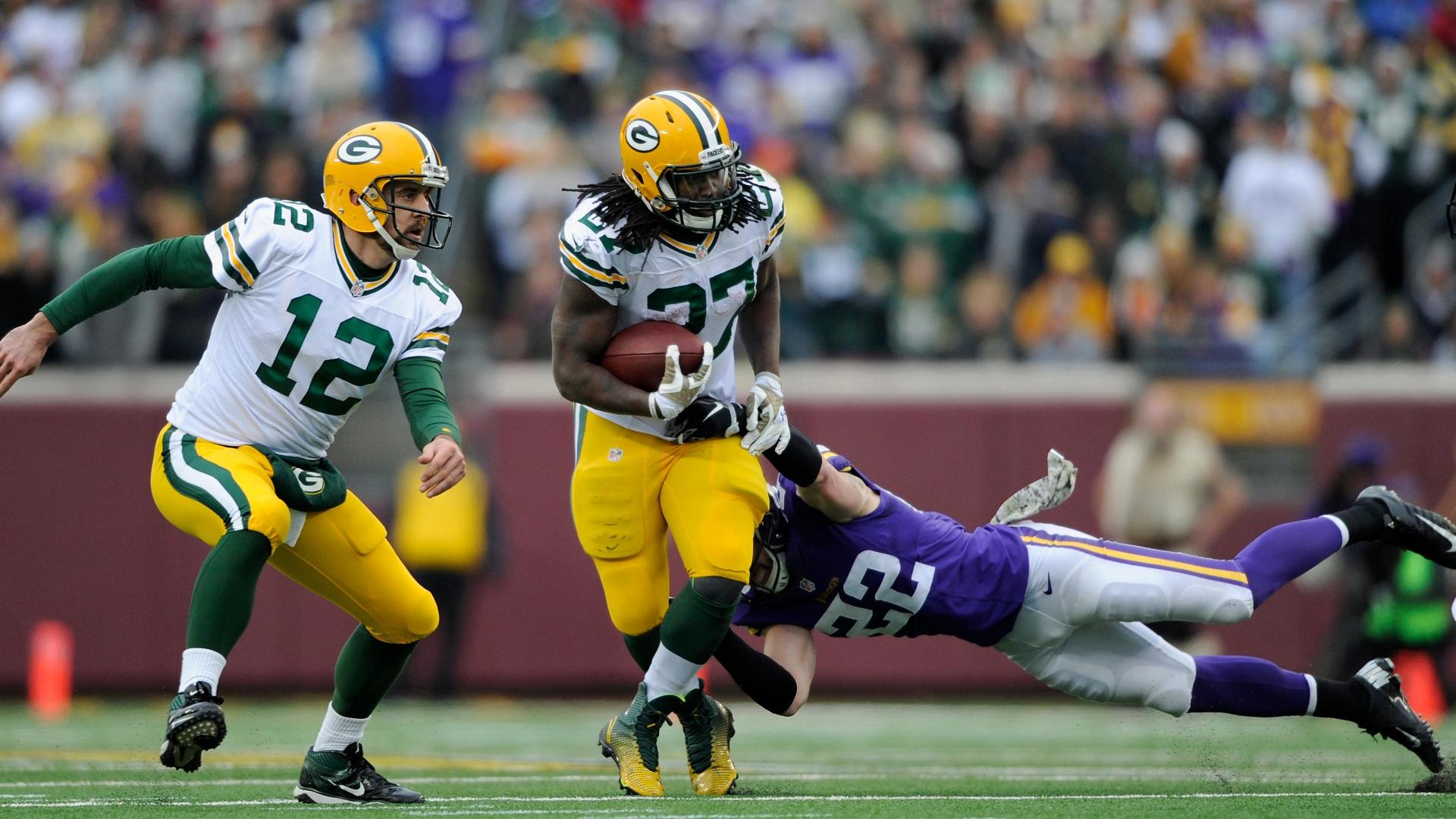 GIFS OF THE WEEK
1, 2, & 3:
All other GIFs seemed so weak in comparison to what may be the best catch of all time.  He deserves all three spots.
BONUS GIF:
This lineman saw Odell's GIF and reacted accordingly:
Remember how I said the Lions weren't playing good football recently? Here is an example:
RAIDERS PUNT TRACKER
Marquette's team finally won this week. This is not ideal for him s when his team plays better, he punts less. Fortunately for us, he is still on pace for 102 punts. Here's to hoping we can up that projection here with some terrible play by the Raiders!
WEEK 13 PREVIEW
Last week's predictions:
1. Ryan Mallett throws for 2 TDs against the Bengals while eclipsing 250 yards. 🙁
2. The Dolphins beat the Broncos. 🙁 🙁
3. Josh Gordon only catches 3 balls for 40 yards and no scores 🙁 🙁 🙁
This week I will simply preview all 3 Thanksgiving games with no game of the week:
Thanksgiving Game 1: Bears @ Lions: This game should only go one way: in the Lions' favor. They are the better team. Their defense is top-notch, the Bears' offense completely depends on whether or not Cutler can play well. The Bears also have a poor secondary while the Lions have a pair of exceptional receivers. This really should not be a contest at all, but as mentioned before, the Lions are not playing very well right now. I think they get back to their winning ways, however. My pick: Lions 27, Bears 17
Thanksgiving Game 2: Eagles @ Cowboys: Now here's a fun game. Tony Romo and his offense are playing very well right now, and the Eagles' offense has not stopped scoring ever since Chip Kelly took the reigns. The Sanchize continues to show that he can run the offense efficiently, and the Cowboys' defense is good, but not great. I expect this to be a high-scoring affair with Tony Romo blowing up the box score. My Pick: Cowboys 35, Eagles 31
Thanksgiving Game 3: Seahawks @ 49ers: The last game of the day should be the best one. This rivalry is the best in the NFL right now, with both teams rising to power around the same time. The 49ers are a bit of a Jekyll and Hyde team while the Seahawks have had a few hiccups on offense but their defense is as good as ever. Both teams are highly reliant on their defenses and I expect this to be low-scoring. San Francisco does not have a game changing player like Marshawn Lynch, and it is because of this that I think Seattle wins this one, as they usually do. My Pick: Seahawks 17, 49ers 13 
WEEK 12 BOLD PREDICTIONS
1. Aaron Rodgers throws for 3 TDs against the Pats.
2. The Falcons beat the Cardinals
3. Le'Veon bell gashes the Saints for 150 yard on the ground.
I hope everyone has an incredible Thanksgiving and enjoys a day full of eating and couch-potatoing as all good Americans do.