There is a whole bunch of action swirling around right now like an angry SarknadoTM of College Football action. Yeah that's right I trade marked it; I don't want any of you stealing my beautiful creation. Now on to God-Awful coaches being awful. Kansas finally canned Charlie Weis after he won a total of 6 games over 3 seasons, including just one conference win over that time. Many suspected Weis would be gone at the end of the season, but was kicked to the curb after beautiful losses to Duke and The Football Program Formerly Known as the Texas Longhorns. (Seriously what happened to Texas? They haven't been relevant for four years, and the Charlie Stong era is off to a bad start. You would almost feel bad for them if you didn't have to deal with mid to late 2000s Longhorns fans. "Alright, Alright, Alright," gets about as annoying as "RAWWLLL TIIIIDDEEEE!" But nowhere near as annoying as "Its all about the UUUUU!!!" Miami is the worst. Anyway, I've spent too freaking long on this sidebar.) The news of the firing has been received with jubilation and excitement by the Kansas fan base causing them to act like this.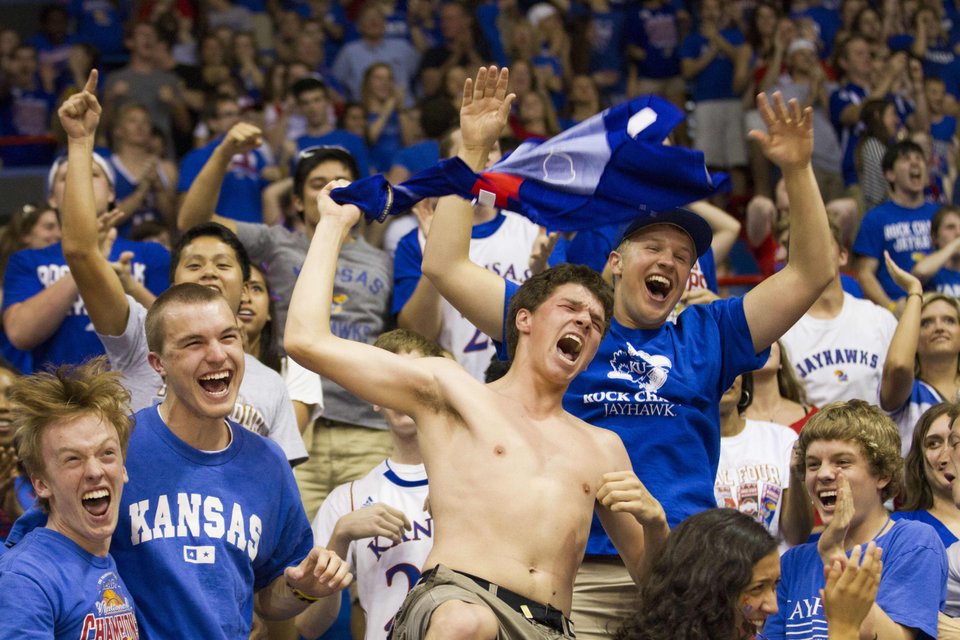 Yes that is a stationary picture from a basketball game. I tried as hard as I could to find a gif of the Jayhawks fans celebrating a good football event, but sadly that does not exist. So here is an awesome gif of some Royals fans (who actually have something to celebrate.)
Speaking of terrible football coaches who might get fired mid-season, Brady Hoke's Michigan team is currently in full on dumpster fire mode. No actually that's not fair. I'd rather be inside a dumpster fire than be a Michigan fan or player right now. That is because Hoke sent back-up QB Shane Morris back on to the field after he suffered an apparent head injury. I might not be a doctor, but if the best word to describe how your quarterback is moving on the field is "wobbled" he might have something wrong with him. Morris was later removed from the game via golf cart. Describing Brady Hoke as being on the hot seat is the understatement of the week. Brady Hoke's seat is so hot, that it caused The Dark Lord Satan Nick Saban to crank up the heat on his throne of eternal darkness and suffering. When asked about it Saban muttered something in Latin and scuttled away. Now on to the weekly awards.
GIF of the Week
Honorable Mention: Todd Gurley, UGA – I am a huge fan of people hurdling other people. It is just so impressive given that even professional hurdlers only hurdle things that are like half human size. On this particular play Todd Gurley was not brought down by Tennessee defenders but rather himself, by way of tripping. This further reinforces that the only thing that can actually stop Todd Gurley is Todd Gurley. Rumors have it that down in the pit of Auburn's dungeons, Gus Malzhan has started building the prototype of Anti-Gurley whispering, "soon my child, soon" while his army of goblin minions scurry around. Honorable Mention: Jacoby Brissett, NC State –  This is an incredible play. Jacoby Brissett breaks a tackle and runs outside the pocket. He then shrugs off another would be tackler before bolting towards the sidelines and throwing a  jump pass for the touchdown, keeping FSU on upset alert. Can you believe he used to play for Florida? I'd bet Muschamp would give up his high blood pressure medication for a week to have him back. While that might not seem like much, I cannot stress enough how much Muschamp needs his meds. He could die of all that pure rage that has built up in his heart since becoming the head coach of the Florida Gators.
Winner: Anthony Schlegel, Ohio State – Anthony Schlegel hasn't made a tackle  for OSU since 2006, but he showed he hasn't lost much since leaving his esteemed institution. He picks up a fan running across the field and body slams him. Because you can take the man out of football, but you can't keep him from wanting to hit something so bad he takes it out on some poor college kid. Yeah, vigilante justice!
Game of the Week
Honorable Mention: Arkansas 28 vs #6 Texas A&M 35 OT – This was an absolute thriller. The Razorbacks looked like they had it wrapped up when they were ahead 28 to 14 in the third quarter. Aussie punter Sam Irwin-Hill had just run a 51 yard fake punt for a touchdown. Now that's what I call shrimp on the barbie! (I apologize for that joke, that was some serious low hanging fruit. I know I can do better.) Then Kenny Trill flipped the turnt up switch to the "All The Way" setting. He threw 2 touchdowns to tie the game up in the fourth quarter. Then he threw the game winner to Malcome Kennedy in overtime. Trill has been putting up dope numbers every week and this was a much better test than the cupcakes TAMU has been playing. Next week versus Mississippi State should be a good one as two of the best quarterbacks in the SEC duel it out. And Arkansas looked a lot better in this loss. This has to be painful for Razorbacks fans who have now seen their team lose 14 straight conference games. However, I think they could surprise a few teams down the road. Don't count out Bielema's Razorbacks, yet.
Honorable Mention: #1 Florida State 56 vs NC State 41 – NC State came out strong and put up 24 points on FSU, stunning pretty much everybody. The cherry on top of this performance was obviously the above GIFin which Jacoby Brissett goes beast mode. Ultimately Famous Jameis snapped back into his old form leading his team down the field five times throwing two touchdown passes and showing the kind of on the field prowess and leadership that made us all fall in love last year. This FSU team barely ekes out another win and doesn't look as dominant as last year. The question is how long can they continue to survive and advance until some team finally catches them on an off day. This team has some exciting match ups down the road with Notre Dame, Louisville, and Miami. We'll see if Jameis can work magic every week or if this 'Noles team just isn't good enough to make it to the big show once again.
Winner: Missouri 21 vs #13 South Carolina 20 – Just when USC looked like it had the SEC East in its sharp talons, Maty Mauk, Marcus Murphy, and the motley Missouri crew came back to beat the cocks by the slimmest of margins. Just about as slim as South Carolina beat Georgia by the weak before. The star of this game for the Tigers was Russell Hansboro who punched in all three of Mizzou's scores. The other MVP was the Missouri defense who managed to hold USC down until the offense could get itself in gear, which was on the final two drives of the game. Here's a stat for all of you baseball spreadsheet nerds who might have gotten lost and wandered in here, 42.5% of Missouri's total offensive yards came on 2 drives. And I thought I was bad at procrastinating, back me up on this one K. (Editor's Note: Editing this at 5:30 AM. Can confirm: Kyle is bad) The SEC East no longer has a clear favorite, and everybody might have a chance. Well, except for Kentucky. Kentucky might be tied for third, but trust me they will forget they have a football team when the pre-basketball season hype rolls around.
Performance of the Week
Honorable Mention: Ameer Abdulah, Nebraska – Ameer Abdulah is our third competitor for best running back in the country along with Gurley and Gordon. He ran for 208 yards on 22 carries–almost ten yards per carry! Plus he punched in three touchdowns to help boost the Huskers to a 31 point win over Illinois. I haven't given him much love yet, because I think he comes in third when compared to the other guys, but he is a stellar back. He is in Heisman talks, and any other year he might be the favorite, but the competition is stiff and Gurley's SEC pedigree might prove too much for Abdulah to overcome in the end. Here is great showcase of his elite power and speed vs Miami.
Honorable Mention: Deshaun Watson, Clemson – Freshman Deshaun Watson came in this year with big shoes to fill after Tajh "It really seemed like this guy played for 7 years" Boyd moved on. He has made a handful of mistakes so far, but boy did this kid put on a show on Saturday. He threw for 435 yards and six touchdowns. He also completed a ridiculous 27 of 36 passes, which for those of you doing the math at home is 75 percent. He might not be Tajh Boyd right now, but if he continues to have games like this he may too good to stick around for eight or nine years like Tajh Boyd did. He will be tested by an NC State team that almost beat FSU next week and a Louisville team that is very good the week after.
Winner: Todd Gurley, UGA – Todd Gurley wins this week not because he had the better stat line, but because he seemed to shoulder more of the burden. That being said, 208 yards and two touchdowns is nothing to be ashamed of. He kept Georgia in the game time and time again while the rest of the team seemed to flounder around him. Hutson Mason looked awful and the defense allowed Tennessee to hang around until the very end. Todd also kicked it up a notch (Editor's Note: Emeril Lagasse hasn't been cool for at least a decade, and we're very sorry) in the fourth quarter, gaining 129 of his 208 yards in the fourth quarter alone keeping UGA in the game at key moments by breaking off big runs for first downs and eating clock. This Georgia team looks completely average or perhaps even below average without Gurley. If UGA gets anywhere this year, which is absolutely still possible, it will be because Gurley had the rest of this "meh." UGA squad hop in his backpack and then proceeded to barrel towards the Heisman trophy smashing anybody or anything that stands in his way. Watch his explosive power on this run. TODD GURLEY DESTROYER OF WORLDS AND HOPES AND DREAMS IS BACK AND READY TO ANNIHILATE THE PUNY SEC EAST! GURLEY SMASH!