Well, I guess this is going to be a weekly thing. I am super excited to bring you coverage of the College Football world. I kind of feel like Brian VanGorder right now.
You celebrate, buddy. You earned it. The first shut out of Michigan since 1984; wow, that's pretty impressive. But VanGorder's handlebar mustache wasn't the only awesome thing this weekend. Let's take a look.
Gif of the week
Honorable Mention: Julian Wilson, Oklahoma- Julian Wilson straight up destroys this guy. I mean, this Tulsa wide receiver was probably cross-eyed  for several hours after this devastating tackle. Then Wilson asserts his dominance over the entire state of Oklahoma with the huge pelvic thrust. The only thing missing is a Mortal combat style reach in your opponent's chest cavity and rip out his heart, then eat it, then  rip off his head and put it in the hole where his heart was and drop kick him off the stage fatality. Oklahoma looked absolutely dominant in this game and kicked the crap out of the school that everyone forgets is also in Oklahoma. The Sooners are home this week against a rather weak Tennessee squad and then play a West Virginia team in Morgantown that could give them trouble.
Honorable Mention: Ifo Ekpre-Olomu, Oregon- Ifo is the best corner in college football this year, period. He also has the hardest name to pronounce/spell in college football this year, period. He is a highly athletic corner who has shut down guys like Brandin Cooks. He projects currently as a mid-first round draft pick and is a key piece in a high power Oregon defense (no, that's not a typo, stop laughing) that shut down Michigan State, so that Marcus Mariota could lead the Ducks to victory in an early season test/resume-builder win. Oh, and Ifo is capable of mind warping stuff like this.
Winner: Ameer Abdulah, Nebraska- So Nebraska players have won this award two weeks in a row. I get it, you are probably sick and tired of watching Nebraska gifs, but this one is ridiculous.  So here's how this play went down. There are thirty seconds left in the game. Nebraska is tied with McNeese State (Yeah, I was pretty freaking surprised, too). It's third down and six, nobody is open down field, so Tommy Armstrong (A+++ quarterback name, IMO) hits Ameer Abdulah on an out-route. Then, Abdulah proceeds to go full on beast mode and put the team on his back doe. He breaks several tackles and hits the afterburners all they way to that big cornfield in the sky to win the game. Just watch.
Game of the Week
Honorable Mention: Memphis 35 vs UCLA 42- This was the most back and forth game of the weekend. Six overall lead changes, and Memphis hung in there until the very end. This game was on upset alert until the very end. And it was a great night for Brett Hundley, who tried to make a statement after a very mediocre week one performance. He came out guns a-blazing for almost 400 yards and three touchdowns. He posted a great completion percentage of 75% and threw only one interception. He probably won't be the first quarterback taken come Draft Night 2: Costner Strikes Back, but I am sure he will be taken in the first five quarterbacks and maybe in the top three. As for Memphis, they came out looking strong in this game and proved they can hang with power conference teams. They have a real chance to win the American Athletic Conference Championship this year, which should be very competitive with ECU, UCF, Cincinnati, USF,  and possibly Houston.
Honorable Mention: USC 13 vs Stanford 10- The Sarkisian Era is off to a good start. Last week this USC team demonstrated its offensive prowess and kicked the crap out of Post-Carr Fresno State. This week USC's defense did the work in a close game over Stanford, forcing 2 turnovers and only allowing a 50% third down conversion rate. The weirdest thing about this game was Sarknado calling down USC Athletic Director Pat Haden to help him argue with the refs. Haden was fined $25,000 after the game for his conduct, or 1 percent of his income for this year. Stanford's offense looked anemic as usual, and their defense couldn't come through for them this time, although they did a great job of  keeping Stanford in the game until the end. The season isn't yet over for Stanford, and I think they might surprise some people later on in the season.
Winner: Ohio State 21 vs Virginia Tech 35- HAHHAHAHAHAHAHAHAHAHAHAHAHAHAHAHAHAHAHAHAHAHA! I knew we'd see the return of Sad Urban Meyer this year, but I had no idea Christmas would come so soon. Freshman Ohio State quarterback J.T. Barrett looked just like a freshman out there. He was completely over his head against Old Man Beamer's staunch defense. He completed a third of his passes and chucked three interceptions. He posted a God-awful 26.7 raw QBR, ranking him 97th out of 115 starting quarterbacks. Ohio State misses Braxton Miller in a bad way, and this year is going to be really rough for them. I just don't see this team competing for a playoff spot or Big Ten Championship without Miller at the head. Sure, Virginia Tech was underrated going into the game, but still, this is not a top ten team, maybe not even a top 25 team. And this is a huge win for VT. They are going to be extremely scary for any ACC team that has to face them. Just when we thought Frank Beamer might go quietly into that long night, he comes back strong with a huge statement win like this. The only constants in this life are death, taxes, and Frank Beamer's Snarl.
Performance of the week
Honorable Mention: Amari Cooper, Alabama- Amari had a huge game this week for Alabama even though Satan Saban started two quarterbacks, who pretty much did the exact same thing, further infuriating their dark lord coach with a tough decision of whom to start. One thing both of these dudes have in common is they both love Amari Cooper. Cooper had 13 catches on the day, which is ten more than the receiver who caught the second most balls. Amari turned these opportunities into big gains, putting up 189 yards and scoring a touchdown. Look out for Amari Cooper to have more big days like this, no matter who wins the starting job down in Tuscaloosa.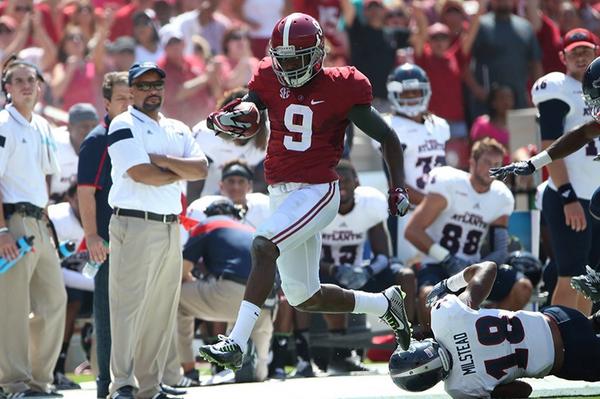 Honorable Mention: Seth Russell, Baylor- Bryce Petty's stand-in went to town this week, putting up 438 yards and five touchdowns with zero interceptions. Even when adjusting for the terrible defense, who we mopped the floor with, he still ranks number two for this week in Adjusted QBR. And he did it on just 25 pass attempts, about half of what every other quarterback who threw for over 400 yards needed this week. Art Briles system is a beautiful machine down in El Paso, and you pretty much switch out any of the parts and it will still run well. The bad news is this does not look great for Bryce Petty who is day to day with cracked bones in his spine (seriously? that's a day to day injury?). He set out his season to prove he wasn't just a system quarterback, and Russell might have proved he was by replacing him so well. It's still early, so I am not saying that Bryce Petty's draft stock/Heisman chances are in free fall just yet. Great day for Russell and Art Briles, though, as this Baylor machine rolls over another victim.
Winner: Marcus Mariota, Oregon- No offense to Russell or the Bears, but killing Northwestern State isn't the same as knocking off a top ten opponent.  And that's exactly what Marcus Mariota and the Oregon Ducks did, soundly beating Michigan State. Mariota threw for 318 yards and three touchdowns and posted a 60% completion rating. He galvanized the offense in the second half to score 28 unanswered points. The turning point was of one of my favorite plays of the game. It was third and eleven, when Oregon was down by nine points in the third quarter. Mariota feels the pass rush coming, breaks a tackle, scrambles outside of the pocket, and instead of taking it himself, flips a little shovel pass to Freeman, who runs for a first down. This play shows Mariota's intelligence, creativity, and speed. From this point on it was all Oregon, with Mariota throwing two more touchdowns and freshman running back Royce Freeman running in two more. Marcus Mariota is the best quarterback in college football, hands down, no debate.
Thanks for reading guys! See you next week!