Ed: Regular editor, K, was not available, so our very own SRBrown had to take over editorial duties. As such, the post is coming late, the grammar may be suspect at best, and the graphics 3rd rate. Get over it, as our #content is #free for your #consumption. 
I'm back at it again! I am very sorry I missed last week, but I was stuck on a magical, electromagnetically charged, trans-planar island, which had a really great premise and a lot of potential, but ultimately got so complex and confusing that it ended in a really disappointing way. But there were polar bears, so that was cool. Right guys? Polar bears? This whole intro was one long Lost joke? It started off cool and then imploded on itself, didn't it? Just like – wait, cue up the "BWAAAAAAAAAAA" sound effect.
Anyway, let's talk about football. Let's go live to the SEC East!
HAHAHAHHAHAHAHAHHAHAHAHAHAHAHAHAHA!!! Georgia beat Florida, so that means several things. Muschamp, who should have been fired almost a year ago gets to keep his job for now. Which means we get to watch that sack of watery garbage he calls an offense. Florida now has a chance to win the SEC East. The same Florida who made us suffer through this disgusting trainwreck of a football game. I just feel bad for UGA, I really do. Losing Gurley, then losing to Florida, and having to play the well oiled, extremely efficient, giant robot that is Auburn Football. Speaking of teams I feel bad for playing Auburn, Ole Miss lost in the worst way possible. Laquan Treadwell went for it on the final play. He ran hard, breaking tackles and wrecking people on his way to the end-zone. That's where disaster struck. He fell forward, lost the ball, snapped his fibula, and dislocated his ankle. His season is over. Ole Miss's playoff dreams are most likely dead. Because of a freak accident in the end-zone. Sports are almost entirely random events, and sometimes that's what makes them awesome, but stuff like this just sucks. Anyway, this is getting too serious.
GIF of the Week
Runner up: Thomas Tyner, RB Oregon – Flawless execution of the spin move here. Gotta commend a guy that can hit the circle button that well.
Winner: Everett Golson, QB Notre Dame – Before you say "Ew Notre Dame, I am not watching this GIF" please just watch Everett Golson salvage this broken play.
Game of the Week
Runner Up: #7 TCU 31 vs #20 West Virginia 30 –  I really thought this one was in the bag for West Virginia. Heck, I had pulled the oldest couch in my room out into the street and doused it in gasoline because I was so excited. Not only did this piss my roommate off, but now our apartment smells like gasoline, and I feel like an utter fool. If you have no idea what I am talking about watch this or this. This was a surprisingly low scoring game, given that both of these teams boast high power offenses. But turnover's plagued WVU and would ultimately result in their doom, when their offense would sputter and their defense would quit after 3 quarters. And they still almost won. But TCU hung around long enough to win, even if this was their worst offensive game this season.  TCU has  a big game this week against Kansas State, which they must win to continue to being in contention for a playoff spot.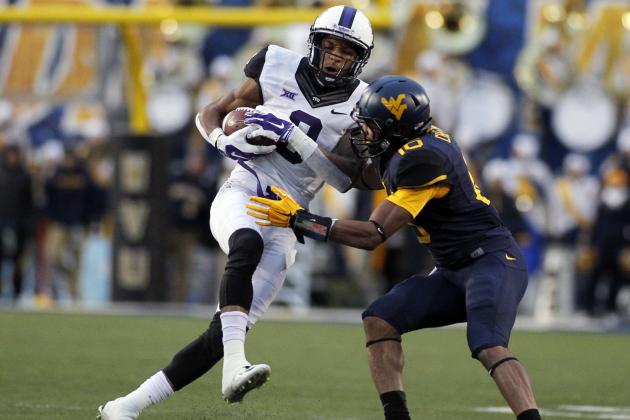 Winner: #3 Auburn 35 vs #4 Ole Miss 31 – This was a fantastic game. It was a duel between Nick Marshall and Bo Wallace. Nick put up 254 yards on 15 of 22 attempts for an average of 11.5 per attempt. He also threw for 2 touchdowns and ran for 2 more, as well as having 50 yards on 10 carries. He has been instrumental to this Auburn  Tigers offense all year, and games like these show that he runs Gus Malzhan's offense to near perfection. Bo Wallace and that beautiful mane of his threw for 341 yards on 28 of 40 attempts for average of 8.5 yards per attempt, as well as throwing 2 touchdowns. Bo was also his team's leading rusher with 56 yards and one touchdown. Ole Miss came very close to winning this, but lost due to sheer randomness. However, they did have opportunities after the fumble to take the lead and were unable to. Sadly, now we won't be able to see the undefeated Egg Bowl we all hoped and dreamed for, but its OK. Things are better than they have ever been in Oxford, Mississippi. Auburn will take on a struggling Texas A&M team next week in their effort to keep their playoff hopes alive.
Performance of the week
Winner: Everett Golson, QB Notre Dame – In terms of the number of points created, no one touches Golson this week. Notre Dame struggled against an unranked Navy team, and the only thing that kept them in the game was Golson. The defense could not stop Navy's triple option attack until the very end of the game. Golson chucked 3 touchdown passes and passed for 315 yards with a 72% completion rating. He also rushed for 3 touchdowns, including the incredible GIF above. Golson put up six overall touchdowns in one game which is more touchdowns than SMU has scored all season. I generally don't watch Notre Dame out of sheer principle, but Everett Golson is as good of a reason as any to re-think the 95 theses. After all, Martin Luther might have the better reputation and "intangibles" (whatever the hell those are), but his QBR just doesn't stand up to Golson's.
Here is your Benediction and have a great week! Editor's note: Check out the dude's head in the bottom left at the beginning of this gif.