What an excruciatingly exciting season it's been thus far. At what is colloquially referred to as the half-way point of the season, the Braves sit tied with the Nationals at the top of the NL East with the 8th best winning percentage in baseball of 54.7 percent. We've had our fair share of run prevention highs (allowing only 3.68 runs per game)  and run scoring lows (scoring only 3.81 runs per game, the third worst mark in the majors) which has led us to having a pedestrian run differential of 12, good enough for 14th in the majors. Our first place standing is equally due to the Nats' futility as it is to our success. People like to point to our record at this point last year to make the case that the team is just as good, but the record isn't telling the whole story. The team's wRC+ (weighted runs created plus, a park and league adjusted way to measure offense) at this point last year was a healthy 104. This year, it's only 91. Our run prevention system had an ERA- (a park and league adjusted version of ERA, where lower is better) of 89. This year it's at 92. Our run differential through the first half last year was 78, a mark that would sit at third in all of baseball this season. No matter how you cut it, this team has not been performing as well in 2014 as it did in 2013. There's still a lot of games left to play, though, so let's take some time to look ahead at how we project in the second half, and I'll make my case for why the future may not be as bleak as I made it sound in our opening paragraph.
This post is going to be split into four parts. The first section will look at how our offense has been and how it projects to be. The second will do the same for our run prevention system. Third, we'll take a look at potential upgrades to our roster that could still be made. Finally, we'll put it all together and use our Braves bias objective analysis to see how the season will likely play out. I'm going to try to go at least a little bit in depth on nearly every single guy, as I'd like this to be an exhaustive overview. Feel free to jump around, skip certain parts, or even just skim the intro and conclusion. I won't be offended; I realize this is a long post and just wanted to make sure I covered all of my bases.
A quick note on a few terms that I will be using throughout this post. First, notice that I'm using the terminology of run prevention systems. This is done for the sake of precision. I often get frustrated when people speak only about the pitchers when considering a team's run prevention, neglecting to consider the team's ballpark and defense. Second, the statistics I will be considering include wRC+, wOBA, BsR, FIP, DRS,  UZR, and Def. If you're familiar with each of these, feel free to skip ahead. If you're not I'll give a very brief overview of how and why I'm using them, but I can't stress enough how brief this will be. I'm only going to make claims, and I'm not going to back them up. If you want to debate my claims, read the glossary page at Fangraphs for each of the statistics first, as it will back me up.
---

SCIENCY BASEBALL TERMINOLOGY
wOBA stands for weighted on base average and is a way of measuring offense as it relates to scoring runs. It is a better measure of overall offensive value than any of batting average, on base percentage, slugging, or OPS. wRC+ is just a park and league adjusted version of wOBA. It has a plus sign in its name, which means it's normalized, so a 101 wRC+ implies that the hitter was 1 percent better at producing runs than the average hitter in that run environment. It's my go-to for offense, because it puts wOBA into proper context. BsR is simply a measure of how many runs a player has been worth due to his base running. This includes stolen base attempts and advancement while on the bases. FIP is a way of determining the value of a pitcher. ERA and RA9 (runs allowed per 9 innings) are actually my preferred ways of describing an overall run prevention system on the team level that includes the defense and ball park, but FIP is the preferred way of isolating just the contribution of the pitcher. When talking about less than 3 or 4 or more seasons of data, FIP is better than ERA at describing how good the performance of a pitcher has been. You may see me use ERA- and FIP-, which are similar to wRC+, but because they have a minus sign instead of a plus sign, a lower number is better. An FIP- of 97 would imply the pitcher has an FIP that is 3 percentage better than the league average FIP. Finally, DRS and UZR are both methods of determining how many runs a player's defense has been worth. From what I've read, UZR is just as good as DRS, but DRS has caught on more in main stream media because "defensive runs saved" sounds better and easier to understand to the average fan than "ultimate zone rating." I may use both, as they are both good, but sometimes differ on the exact number of runs saved. Def is a measure of defensive value on Fangraphs that uses UZR combined with a positional adjustment. Basically, shortstop is a more difficult position to field than left field, so saving 3 runs at the shortstop position is more valuable than doing so in left field. Everybody with me? Ok, lets get started.
---

OFFENSE
Our offense. Ohh our offense. This season has been marked by an inability to score runs. Some people have tried to blame this on not having enough timely hits or not playing enough small ball or not moving guys around like we should, and to some extent that is actually true. While we're 27th in runs scored, we're 21st in wRC+ and Total Offense, which includes base running. We're getting guys on base at close to an average rate, but for some reason we've not been able to get them to score. Some people blame that on bad approaches with two strikes, or not hitting according to the situation, but these are kind of baseless claims. These things potentially could be true, but we don't really have a way of knowing that, and it is much more likely to just be randomness. Remember that your null hypothesis should always be what is most likely to be true, and when talking about situational hitting not matching overall hitting, randomness is always the more likely culprit. So until someone can come to me with a reason to believe that we actually do suck at situational hitting, I'm going to be optimistic and realistic and think the run scoring is set to improve.
The Good: Our offense up this point has basically been carried by Freddie Freeman, Evan Gattis, and Justin Upton. I've already talked about Gattis, and I'm excited for him to get back from the DL. He's made some legitimate improvements this season and has been one of the most exciting players to watch on our team. Freeman is following up his excellent 2013 season at the plate with another incredible performance. His wRC+ is nearly the same as it was last year- 147 versus 149 last season- but the peripherals look even better. He's walking more, striking out the same amount, hitting for additional power, and hitting a higher percentage of line drives. His eye for the zone and pitch recognition were already elite, but this year he's shown a tendency to be more patient against difficult to hit breaking pitches, as seen in the following graph:
He's still aggressive, but when you have the excellent eye for the zone, contact ability, line drive skill, and power that he does, you can very easily get away with it. He's already a great hitter, and the fact that he's improving at a young age shows that he should continue to be elite for many years to come.
Justin has been similar to how he was last year, which is to say he's been a really good hitter. Some complain that he's streaky, but a wRC+ of 136 is a wRC+ of 136, regardless of how consistently it's done. While it could just be random noise, he's shown a much better ability to recognize and lay off offspeed pitches out of the zone, which has led to a much lower whiff rate on those pitches this year compared to last year. He's also seen less first pitch strikes this season, which one would think would lead to a higher walk rate, but he's offset this with a more aggressive approach. More aggressive is relative, though, as one could make the argument that he was too passive last season. This season he's had a steady approach overall, with a higher in zone contact rate, and most of his extra swings have been on pitches inside the zone. For a guy who hits the ball as hard as Justin does, these changes are nothing to complain about. The ZiPS and Steamer projection systems predict Justin to finish the season with a wRC+ of at least 130, which would make him one of the top 20 hitters in the National League. Not too bad.
The Bad: Bad is a complete misnomer in this case, but "the good, the bad, and the ugly" sounds a lot better than "the good, the decent, and the bad," so we're going to stick with it. There's really only been two players on our team this year that could go into this bin: Jason Heyward and Tommy La Stella. As an all around player, Jason Heyward sits firmly in the "good" category. He's one of the greatest defensive players in the game today, and certain conservative areas of the South are currently working on legislation that would outlaw videos of him running the bases due to its pornographic nature. But we'll get to the defense later. For now, we're talking about his offense, which this season has been pretty "meh." In a previous article I touched on the main force driving his mediocre performance at the plate, that being his inability to hit lefties. He's overcome this in his overall value due to his solid work against righties, posting a 129 wRC+ with only 42 strikeouts to go with his 39 walks. He's been able to consistently put the ball in play, although his power numbers have taken a dip against pitchers from both sides of the rubber. While there have been some legitimate reasons for why he's had such a tough time against south paws, he's almost certainly not going to do as poorly against them as he has thus far. If he can continue to hit righties, see a slight uptick in his performance against lefties, and get some of those deep fly balls to actually leave the yard, I wouldn't be surprised to see a wRC+ as high as 125 to 130 for the remainder of the season. Combine that with the aforementioned baserunning, and he'll likely be one of our better offensive performers in the second half.
La Stella, on the other hand, has absolutely terrorized same-handed pitchers, albeit in only 28 at bats. It's no secret that we've had our share of issues at second base this season, but La Stella has proven that he can handle the job well. All around, he has been able to hit consistently above average with a wRC+ of 107. While I'm not yet convinced he can maintain his current BABIP of .333, I don't think it will be as low as league average, and I'm also not convinced that he will continue to hit for extra bases at such a low rate. La Stella  has hit for so few extra base hits that Fangraphs actually compiled video of every single one of them into one article. La Stella's not the type of guy to really post eye-popping offensive statistics, but his mature approach at the plate, above average knowledge of the strikezone, and impressive contact abilities should allow him to continue to hit for a decent average while compiling as many or more walks as strikeouts. I should note that BsR sees him as having been worth -1.7 runs on the bases at this point, but I think that's likely just noise due to the sample size. He's an average baserunner with a slightly above average bat that should continue to produce for us.
The Ugly: Now for the actual bad, the ugly. We're just gonna go ahead and get Chris Johnson out of the way. The concerning thing about Chris is he's not getting unlucky. His BABIP is right around what you'd expect it to be based on his career and his 2014 batted ball rates, his expected number of home runs equals his actual number of home runs, and the increase in strikeouts and decrease in walks has been his own doing. He's performed poorly in this regard due to an increased propensity to swing at balls out of the zone, specifically over the outer third. This is the area in which he's shown the least ability to produce consistently, as evidenced by this heat map of his runs above average by zone:
Last season and over the course of his career he's swung at around 40% of pitches thrown outside the zone to him. This year, that number is up to 45%, the second highest mark in all of baseball. His whiff per swing rate is also up by a similar amount, which is probably more of a symptom than a problem, as its probably tied to his increased swing rate against bad pitches. I haven't found anything, be it in the numbers or in interviews, that would suggest why he's been doing that, so all we can hope is that it's just a cold spell. We're only paying him to perform at a slightly above replacement level, but he's on the wrong side of the aging curve, and was never an elite player in the first place. Hopefully he can find some of his lost power in the second half, while giving in less on pitches over the outer third, to become an average offensive player.
The next offensive ugly has been our star shortstop, Andrelton Simmons. Andrelton's main issue has been a lack of power, driven largely by a decrease in his fly ball rate. When he does hit a fly ball he's been hitting it further- average distance on fly balls is up by 3 feet- and more toward right field- average spray angle on fly balls went from 0 degrees in 2013 to 7 degrees toward right field in 2014. He's finally seen his infield fly ball rate go down, but that's unfortunately been coupled with a decrease in his line drive rate and a spike in his ground ball rate. I can't help but wonder if some of those pop ups have become ground balls pounded into the dirt, so I'm not sure I'm comfortable assuming he'll continue to have a BABIP north of .280. He consistently puts the ball in play, but that's only going to provide above average value if you're doing it with authority, which for the most part Andrelton is not. I'm hoping he can continue to work with hitting coach Greg Walker and get a better sense of what type of hitter he wants to be, getting things better figured out for the second half. We all know we're paying the kid just to field baseballs, though, so we can't complain too much if he continues to hit for a wRC+ around 90.
Next, we come to BJ. There's really not much to say here that hasn't been said before. He's got the third lowest zone contact rate in baseball, a mediocre batted ball spread, and a steadily decreasing average fly ball distance. His 15 stolen bases this year- already 3 more than his total for all of last year- have made up for some of the performance at the plate, but he's still been a 9 run net loss in the total offense department. He's managed to be a positive contributor overall thanks to his solid defense in the premium defensive position of center field, but his offense has and will continue to leave much to be desired.
Our final offensive ugly, and this is a big one, is our bench. The best wRC+ for any player on our bench belongs to Gerald Laird at 73. Yes, 73. The absolute best bench bat we've had this year has been 27 percent worse than an average batter at the plate. We've got once-released-by-the-ASTROS Jordan Schafer hitting .174 with a slugging percentage that looks like a back-up shortstop's batting average. We've got switch hitting Ramiro Pena striking out like Giancarlo Stanton but hitting for as little power as Dee Gordon. We've got Ryan Doumit out there making Jackie Bradley Jr. look like Barry Bonds. And we're not even going to discuss Dan Uggla, because I refuse to say anything negative about the guy. I just don't have it in me to throw more fuel on the fire that's been raging against him from our fans for years now. He's a helluva guy and will make a tremendous coach one day, but he no longer needs to be playing professional baseball. Let's remember him positively. When we look back, don't focus on his 35 wRC+ from this year. Focus on those blue eyes that bring to mind every cheesy, cliche line we've ever used to try to woo a girl. Focus on those forearms, one of the few objects on Earth that can be seen from space. Focus on the model teammate, who through the midst of his offensive woes has remained nothing but professional and supportive of his teammates. Focus on those things, but do so while wishing him farewell.
---

RUN PREVENTION
In order to prevent runs from scoring you want your pitchers to strike guys out, limit walks, and limit hard contact, and you want your defense to prevent balls in play from turning into hits. As stated above, FIP is the best way to determine if a pitcher has been doing his job, and Def does a great job to determine if the defense is doing its job. How have the Braves done in this regard in 2014? Incredibly well. Our FIP is third in all of baseball, and we rank second in defensive value. This has led to us having the 6th lowest team ERA in all of baseball at 3.36. If we adjust this for park and league with ERA-, we jump up to 5th with an ERA- of 92. That's really good, and I see no reason why it shouldn't continue. We're tied for third place in innings pitched by our starters, while our relievers have combined for a 3.05 FIP, the best in all of baseball. Our organization has always focused on this side of the game, so none of this should come as any surprise. The one problem is, the team that leads in all of those categories that we're near the top in is the Nationals. We've been great; they've been absolutely outstanding. Nevertheless, let's take a look at some of the pieces that have gotten us to where we are.
The Good: Craig Kimbrel, Shae Simmons, Jordan Walden, Anthony Varvaro, and David Carpenter. Every single one of those guys have an FIP- of 73 or less. The pitcher in that group that's performed the worst thus far has performed 27 percent better than league average. The average FIP for all pitchers with at least 20 saves this season is 2.57. David Carpenter is the only one of our pitchers in that group with an FIP greater than that. That's four guys in our bullpen who have performed well enough to be a quality closer and one who is borderline good enough to do the same. Kimbrel's doing what he's always done, striking out 41.1 percent of all batters he's faced and allowing only 1 home run so far. Much cleverer men than I have written far greater prose on the subject of our elite, home-grown closer, so I'm not going to do him the injustice of talking any more about him.
Varvaro and Carp are striking out over a quarter of the guys they face while walking around 6 percent of them. Carp may have a 4.26 ERA, but he also has a .448 BABIP against him, so he's just been horribly unlucky. He's performed great, sometimes the balls just don't fall your way. Varvaro's strikeouts are up, walks are down, and ground balls are way up. He's getting guys to swing more often, while also getting them to swing and miss at a higher rate. It looks like he's been much more confident with his changeup and curve, as he's been throwing them more often and getting great results from both. Typically, guys don't improve this drastically at the ripe age of 29, but we're going to be optimistic and assume he'll keep this up. Even if he regresses some, he's still a solid bullpen arm who should continue to give us quality innings.
Shae Simmons is walking a few more guys than those two are, but he's also striking more guys out. He's quickly become my personal favorite reliever in our bullpen, mainly because of our similarities. He's the same height as I am, only weighs about 15 pounds more, and is the same age, and so I like to think I could potentially do what he does if I would get off my ass and stop drinking so many beers. He represents hope for me and hopelessness for every hitter he faces. His stuff is just filthy, featuring a 96 mph fastball and an elite slider. Can someone familiar with biomechanics please explain to me how a guy his size can consistently throw that hard? Having already torn up the minors in the same fashion, it's very easy to foresee him continuing to do this for years to come.
Walden has a hop in his delivery. Hey guys, did you know Walden has a hop in his delivery? Yeah, it turns out when he pitches he has this little hop thing he does. Sure does. It's like this little hop step. Have you seen it? Here's a picture:
That's basically the broadcast every time he pitches. We've got it, baseball media. We heard you the first time. In addition to hopping toward the mound, he's also struck out 32.5 percent of the batters he's faced through 27 innings. He's an absolute stud, and he's the third best pitcher in our bullpen. It's great that he's back and healthy, because you can never have too many hard throwing righties at your disposal in your bullpen.
Rounding out the list of the good pitchers are Alex Wood, Julio Teheran, and Ervin Santana.  Ian Morris of Talking Chop did a great job outlining Teheran's performance this season, so do yourself a favor and go read that. I'm not gonna add anything, because I want you to go read that piece. Alex Wood has also been doing a great job on the mound as both a starter and reliever. It wouldn't be unreasonable to suggest he's been the best starter on our team on a per inning basis this year, and I hope he'll have plenty of gas left in the tank to give us more quality innings down the stretch. A lot of people will probably balk at me putting Ervin in this category due to his 4.01 ERA, but the thing is, he has a 3.30 FIP, and no one has shown why it would be reasonable to suggest he's all to blame for that gap between those two numbers. People have said he's grooved some pitches, but every pitcher grooves some pitches. How many has he grooved relative to the average pitcher? Some people point to his line drive rate, but research has shown that pitchers have little control over this. He has the highest ground ball rate, second highest strikeout rate, and third lowest walk rate for his career, so until someone comes to me with some solid research and data to disprove the null hypothesis of him being as good as his FIP suggests, I'm putting him in this category. He's increased his whiff rate, even seeing it go from 6.75 percent to 10.8 percent on pitches in the zone. This is likely tied to his improved changeup, which is breaking harder than last year and getting swung on and missed almost 18 percent of the time. He's been solid in my eyes, and I look forward to him having a strong second half. Did I mention he's probably the most fun player on our team to watch hit?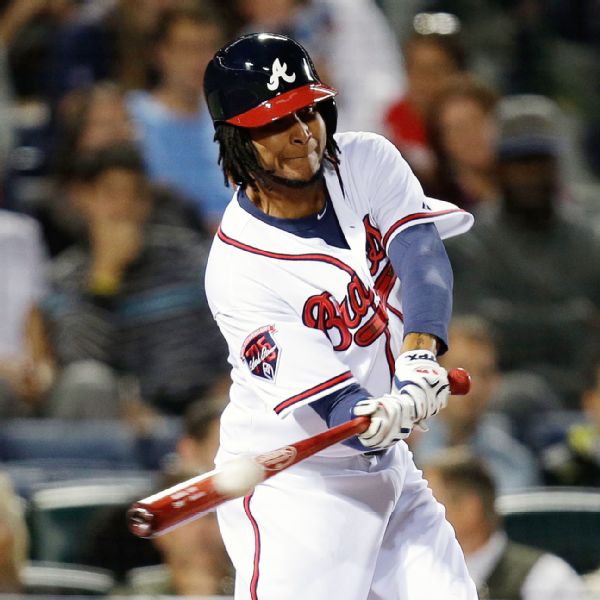 As I said before, our defense has been stellar this season, and it's been Jason Heyward and Andrelton Simmons leading the way in that regard. Heyward's been the best defender in the game so far, having already amassed a whopping 25 defensive runs saved. He has an average arm for a right fielder, but his range, route efficiency, first step, and instincts are all elite. He tracks balls extremely well, covers what seems to be acres on same plays, and rarely makes a mistake with the glove. Data from Inside Edge shows that he's made 216 out of 221 plays that at least 10 percent of right fielders should make, which is absolutely incredible. He's only missed one play that was deemed "routine" and hasn't missed a single likely or even difficulty play. He's just superb. Andrelton hasn't been as valuable on defense as he was last year, but it's not easy to repeat what was the greatest defensive season of all time by DRS. His drop in value is mainly tied to him making significantly less unlikely plays, as he's completed routine, likely, and even plays at around the same rate as last year, which seems to suggest this is just noise inherent in our measures of defense. He's still the best defensive shortstop in the game and will continue to be in the second half.
Also of note, Ervin, Teheran, and Harang all rank in the top 30 pitchers in DRS. Granted, that only comes out to a combined 5 defensive runs saved, but it was a cool little trivia piece that I'll likely use later to try to impress someone with my obscure baseball knowledge. I encourage you to do the same.
The Bad: Now for the bad mediocre. The mediocre defenders have been Tommy La Stella, BJ Upton, and our catchers. BJ is actually a good defender, but he plays center field where you're expected to be a good defender, so as far as defensive value goes, he's a little above average. I'd rather write about the industrial design elements of a brick than about mediocre defenders, so I'm not saying anything else about them. They provide us what they should provide and sometimes a little more. Moving on.
Aaron Harang started in the elite category, but a few bad starts have settled him down into the mediocre category. He's still exceeding my pre-season expectations for him, so I'm ecstatic about a mediocre performance. At the beginning of the season his slider was a vicious weapon, but he's since had a harder time commanding the zone with his fastball. When you can't command your fastball, it often makes your other pitches less effective. Guys are still only producing a 75 wRC+ against said slider, but they're producing a 122 wRC+ against his fastballs, so it's kind of a wash. He's striking out guys at the same rate he has over his career, but he's walking more. He's offset the walk rate increase with a decrease in his home run rate, which is due to his ground ball rate getting back to where it was early in his career. Last season was his worst year, and it also featured his lowest release point of his career. This year the release point is up by about 2.5 inches, which puts it closer to where it was in 2011 and 2012. It kind of makes you wonder if he was trying to pitch through a slight injury or discomfort last season, which could be why the Braves trusted him enough to pick him up at the beginning of the year. It's tough to say exactly how he'll produce the rest of the way, but if he can keep just being good enough he'll easily earn his keep in our rotation.
I'll throw David Hale in this category, too, but I think that's generous. He's striking out less than 4 batters per 9 innings while walking around the same amount. That's a recipe for disaster, and the fact that's it hasn't been just that is truly a blessing. I don't think anyone expected him to be any better than a fifth-starter, and that's kind of what we're getting.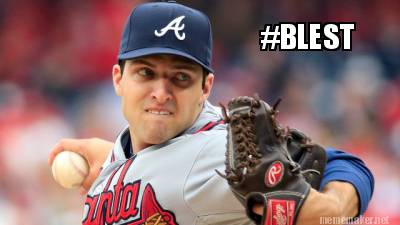 The Ugly: Ask almost any given Braves fan who our least valuable defender has been this season, you will likely not hear Freddie Freeman's name come up. Unfortunately, that's exactly what he's been. People just love gushing over advanced defensive statistics when they tell us how great Heyward and Simba are, but as soon as those same metrics suggest Freeman is a bad defender, they become indignant. This is called confirmation bias, and it's an easy way to lead a life of bad decisions. I'm currently writing this in a Six Sigma class, which is all about making good, evidence based, data driven decisions. Claiming Freddie Freeman is a good defender does not pass the Six Sigma requirements. He's got a decent glove and is solid around the bag, but his range is FM while the rest of the league is on XM. Chris Johnson's also been bad on defense, although I've got to give him credit for being less bad than he's ever been at the hot corner. I have this pet theory in my head that Andrelton's incredible range has allowed Chris to be responsible for less ground at third, but I really have no way of proving that. This is another example of an unlikely claim that doesn't pass the Six Sigma requirements, so I'm not going to stand by it. It's just something to consider. However he's done it, he's improved on defense, so while he hasn't been great, I'm enjoying him being less of a liability than usual in this regard. Justin Upton has also been a poor defender, which still confuses me. He makes the routine and likely plays as often as you'd like him to, but he barely converts plays of even difficulty at an average rate. He's also 0 for 17 on remote and unlikely plays this year, so he's not getting any boost from those. Somehow, his speed just hasn't translated into quality defense. It's still better than Gattis out there, though, so I'll let it slide.
The two uglies on the pitching side of run prevention have been Avilan and Mike Minor. In pains me to put Mike in this category, but he just hasn't pitched well in the first half. Luckily, it's not likely that this will continue. His home run per fly ball rate is currently at 14.9 percent, compared to his career rate of 10.5 percent, and this is a large part of his pitching woes. He's striking out more guys than ever, though, and is still doing a pretty good job at limiting walks. A fly ball pitcher in front of Jason Heyward and BJ Upton will not continue to have a .343 BABIP, so once this and the HR/FB rate come back down to Earth we'll be left with the starter we expected at the beginning of the year. He hasn't lost any velocity from last season and is throwing to basically the same spots, so I wouldn't be surprised to see him, Teheran, and Big Erv being one of the strongest groups of starters in the game for the second half.
Then there's Avilan. I mentioned before that I planned on writing a 10-57 article on Avilan, but there's just nothing interesting there. A pitcher needs some combination of good stuff and good command to pitch in the majors, and Avilan has shown neither this season. The curveball isn't fooling anyone, he's not hitting his spots with his fastball, and the fastball doesn't have the velocity to blow anyone away. The frustrating thing is how Fredi has used him. WAR is great for measuring how well a player has performed, but it's not always the best at determining how a bad reliever's performance has actually impacted the team. The reason for this is smart managers will only use bad pitchers in games they're almost certainly going to win anyways, thus limiting their damage. A way of measuring the pressure of a game situation is Leverage Index (LI). A good manager will use his best pitchers in the highest leverage situations and his worst pitchers in the lowest leverage situations. Avilan is our worst pitcher in terms of projected FIP, but he's middle of the pack for us in terms of average leverage index when entering the game. I'm not going to try to take the blame away from Fredi on this one, but some of those higher leverage situations have been against a left handed hitter, a time when you'd want a good lefty to go in from the 'pen. Unfortunately, Wood is the only other lefty we have back there, and his role has been more of long relief when he's not starting. Thus, Fredi's kind of been stuck with the guy. There's no way around the fact that we need a new lefty reliever, and it's likely that will be one of the things we get before the trade deadline, which segues nicely into our next section.
---
POTENTIAL UPGRADES
Now that we've gone through the good, bad, and ugly for our entire team, we can talk about areas for improvement. The main areas we could use help are in are third base, center field, our bench, and our left handed relief spot. Third base and center field are both currently locked into contracts, so there's not going to be any moves at those spots any time soon. Our bench could use some bolstering, and I don't see any reason why that couldn't happen from within our own organization. We had Phil Gosselin up for a day while Uggla was serving his one-day suspension, and I'm of the opinion that we should make that a permanent thing. He's not a great hitter, but we could use Pena's glove and utility as a backup for our infield, so I don't foresee any changes there. Joey Terdoslavich is a switch-hitter just like Doumit, but can play more positions than Ryan, so that's another logical switch. That leaves us with just Schafer to replace, which could be done by swapping him out with Todd Cunningham. All three of those guys are likely going to spend the rest of their career being trade pieces going in between the majors and the minors, so there's no real harm in calling them up and seeing if they can perform better than the bench players currently have. They certainly can't do any worse.
David O'Brien has said multiple times that the Braves are looking for a left-handed relief pitcher to replace Avilan, and it's been suggested that we have serious interest in Red Sox relief pitcher Andrew Miller. Miller would be an awesome pick-up, as he's currently striking out close to 40 percent of the guys he's faced while only walking around 8 percent. Replacing Luis with him could easily be worth an entire win on its own, which would be huge benefit for our chances at winning the division. We could also use another good starter, as it's tough to say if all five guys are going to continue to perform as well as they have, but it's not a pressing need and isn't one we should burn a lot of resources on. Some people have suggested we go out and get Price. Those people's opinions are objectively wrong. If we get another starter, it would have to be a low cost option, as we're already over budget thanks to Mr. Santana. The thing is, we already have low cost options, so that wouldn't gain us much, if anything at all. It could happen, but don't expect too much.
---
 WRAPPING IT UP
Fangraphs is the proud owner of what is probably the best publicly available Projected Standings for teams. It's an incredible resource that's easy to use and has proven to be more accurate than any other publicly available team projection resource. According to it, we currently project to win 87 games, compared with 90 for the Nationals. Our pitching has been good; the Nationals pitching has been better. Our offense has been terrible; the Nationals offense has been mediocre. The upgrades I suggested could combine to be worth as much as 2 or 3 wins, and our easier schedule the rest of the year could be worth as much as another win, but that's generous and only brings us up to par with where the Nationals already are. There's always the chance we could get to October as a wild-card team, but my mother doesn't approve me using the words I'd like to use to describe my feelings toward that one-game play in. I want to win the division. The good thing is, there's a lot of randomness in baseball. Some estimates put one standard deviation of wins over a season in baseball to be as much as 6.36. We've been able to keep up with our rivals up to this point, and there's certainly a decent chance we could continue to do so for the rest of the year. We're only talking about a small difference in projected performance, after all. If our pitching keeps limiting the damage caused by our struggling offense, if our bench bats can start to come around and produce for us, if CJ and JHey and Simba see their bats get hot, we could put everything together, win 90+ games, and take the division again. That's a big if, but that's just baseball. Random things happen all the time. Guys get hurt, bats get hot, arms get cold, etc. Either way, there's a lot to look forward to in the second half. Whether it's Jason laying out for a liner in the gap, Gattis crushing a home run on a pitch at his eyes, or Kimbrel making guys paid to hit baseballs swing and miss like they've never picked up a bat, this team has a lot to entertain us with. At the end of the day, we're watching a bunch of grown men hit balls with sticks, so let's just all not take it too seriously, grab a beer, sit down, and enjoy what the rest of the season has in store for us.